Nov
7
2022
Keeping Each Other Safe: A Discussion Centering Women and Gender Non-Conforming People of Color on Campus and Beyond
November 7, 2022
6:30 PM - 8:00 PM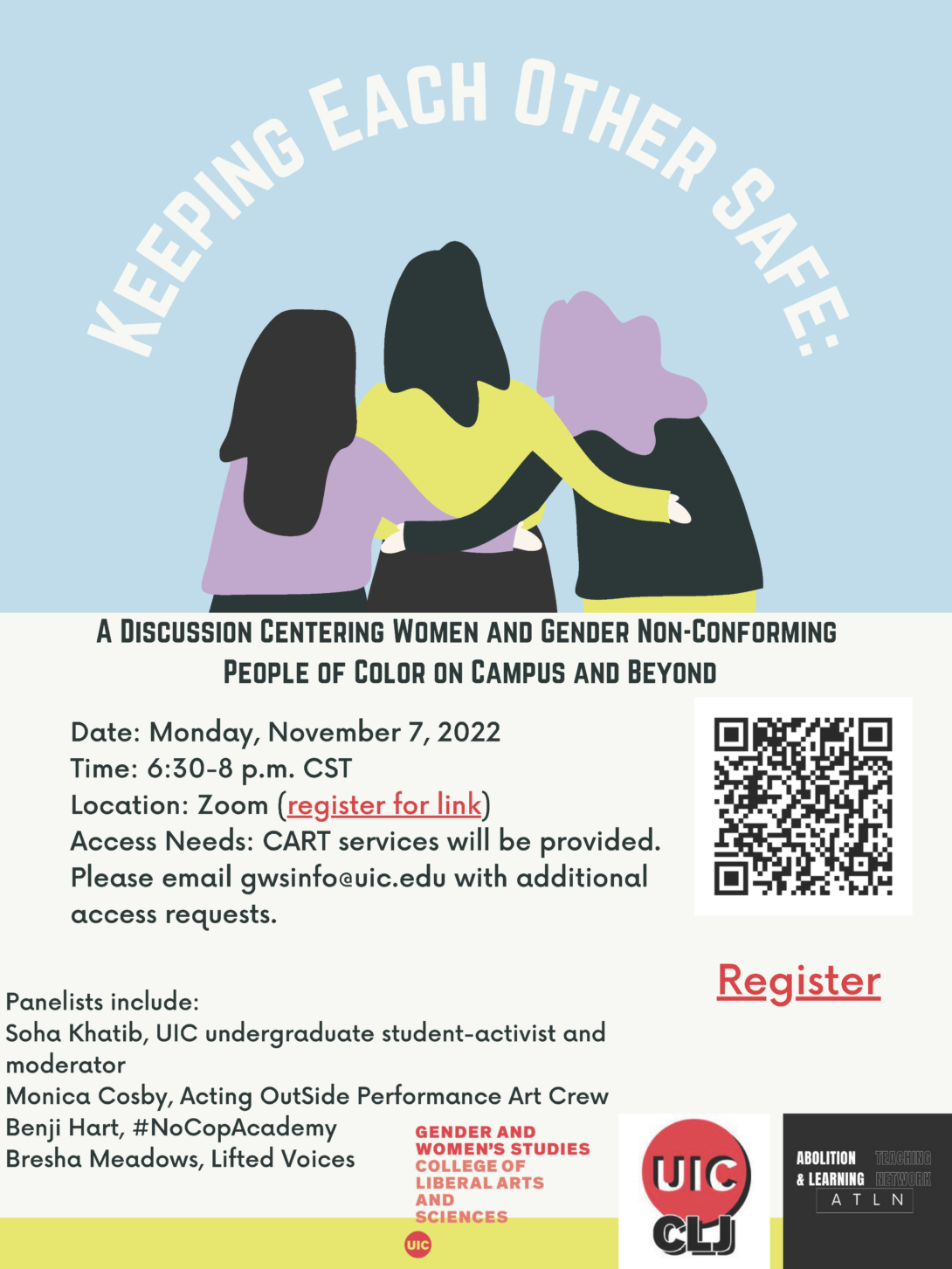 Since the sexual assault and murder of UIC student Ruth George on campus in November 2019, UIC undergraduate students have expressed concern about campus safety and existing strategies for keeping our campus safe, especially for women and gender non-conforming BIPOC students. In response to these concerns, a group of UIC students and faculty who have a commitment to enhancing safety options on UIC's campus without involving the police or other carceral systems invite you to a virtual panel discussion.
This discussion, hosted by the departments of Criminology, Law and Justice and Gender & Women's Studies, as well as the Abolition Teaching and Learning Network, at UIC will be grounded in a definition of safety that recognizes how gender violence targets those most marginalized because of their race/ethnicity, gender, sexuality, identity, disability, legal background and status.
While the event is open to all, the program is organized to center the experiences and needs of UIC students who are committed to creating a safer campus community for all, especially our most marginalized and vulnerable community members.
Come learn from impacted and experienced activists/educators about how we can build together systems of accountability outside of harmful and carceral responses, on the campus and beyond.
Panelists include:
Monica Cosby, Acting OutSide Performance Art Crew
Benji Hart, #NoCopAcademy
Bresha Meadows, Lifted Voices
Soha Khatib, UIC undergraduate student-activist
Date updated
Nov 29, 2022