Mar
30
2023
Kelly Hayes: "Not Our First Apocalypse: Indigenous Struggle on the Edge of Everything"
Surviving the Long Wars Virtual Scholarly Series
March 30, 2023
3:30 PM - 5:00 PM Central Time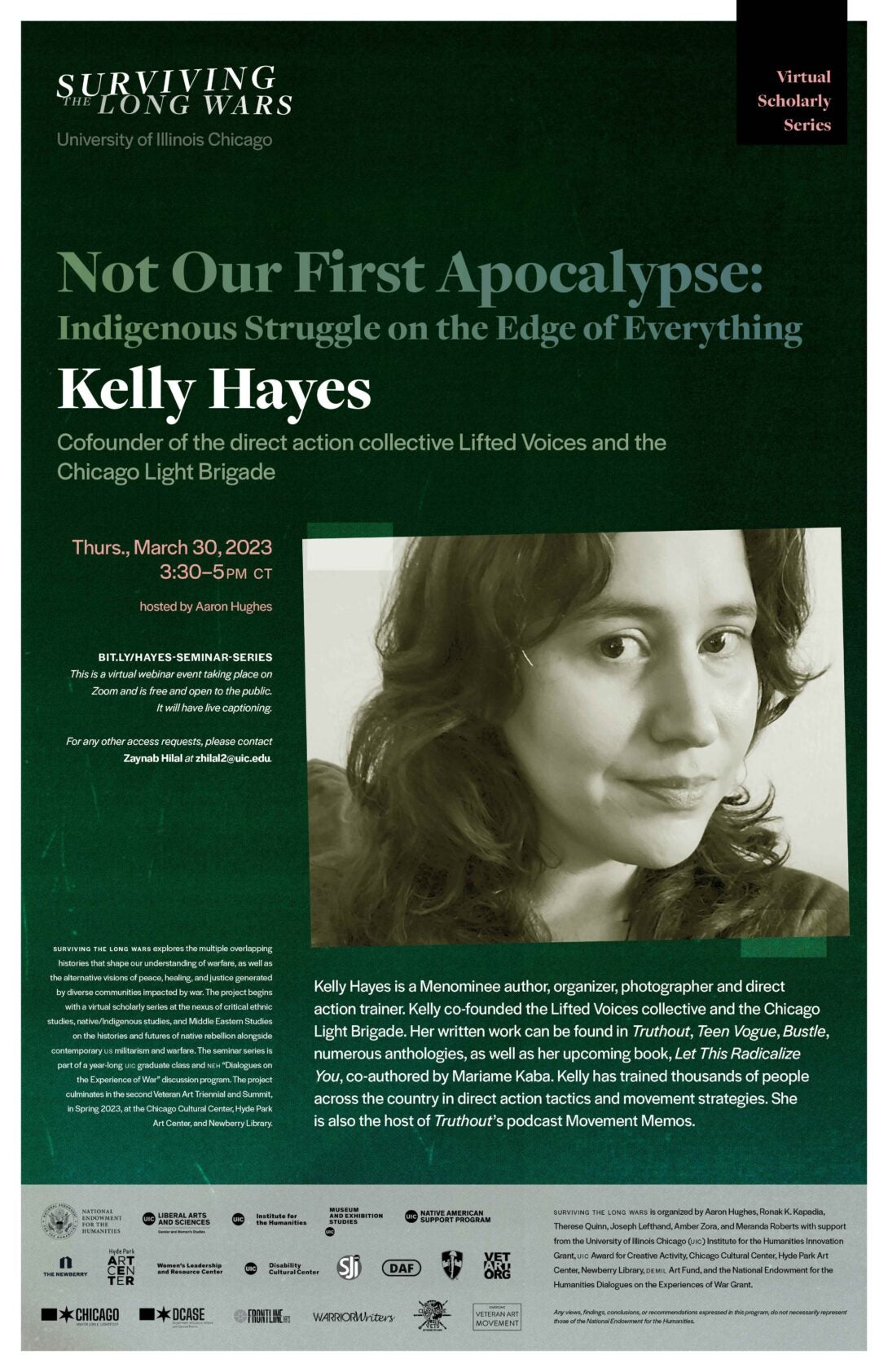 We are excited to announce the sixth virtual seminar in the series by Kelly Hayes, author and co-founder of the Lifted Voices collective and the Chicago Light Brigade, on Thursday, March 30th, 2023 at 3:30 pm CT. The talk will be moderated by STLW co-organizer Aaron Hughes. This is the sixth lecture in a series that will conclude with Dr. Tiffany King.
Kelly Hayes is a Menominee author, organizer, photographer and direct action trainer. Her written work can be found in Truthout, Teen Vogue, Bustle, numerous anthologies, as well as her upcoming book, Let This Radicalize You, co-authored by Mariame Kaba. Kelly has trained thousands of people across the country in direct action tactics and movement strategies. She is also the host of Truthout's podcast Movement Memos.
This is a virtual webinar event taking place on Zoom and is free and open to the public. It will have live captioning. For any other access requests, please contact Zaynab Hilal at zhilal2@uic.edu.
SURVIVING THE LONG WARS explores the multiple overlapping histories that shape our understanding of warfare, as well as the alternative visions of peace, healing, and justice generated by diverse communities impacted by war. The project begins with a virtual scholarly series at the nexus of critical ethnic studies, native/Indigenous studies, and Middle Eastern Studies on the histories and futures of native rebellion alongside contemporary US militarism and warfare. The seminar series is part of a year-long UIC class and NEH "Dialogues on the Experience of War" discussion program taught by veteran artist Aaron Hughes. The project culminates in the second Veteran Art Triennial and Summit, in Spring 2023, at the Chicago Cultural Center, Hyde Park Art Center, and Newberry Library.
SURVIVING THE LONG WARS is organized by Aaron Hughes, Ronak K. Kapadia, Therese Quinn, Joseph Lefthand, and Amber Zora with support from the University of Illinois Chicago (UIC) Institute for the Humanities Innovation Grant, UIC Award for Creative Activity, Chicago Cultural Center, Hyde Park Art Center, Newberry Library, DEMIL Art Fund, and the National Endowment for the Humanities Dialogues on the Experiences of War Grant. Special thanks to the Disability Cultural Center, the Native American Support Program, and the Women's Leadership and Resource Center at UIC.
Date updated
Jun 13, 2023