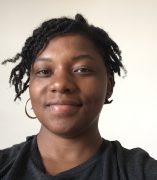 Freda Fair, PhD
Assistant Professor
Gender and Women's Studies; Black Studies
Pronouns: they/them/theirs
About
Dr. Freda Fair is an interdisciplinary scholar and teacher who studies race, gender, sexuality and culture in the United States with a focus on the American Midwest. Freda's research areas include queer politics and aesthetics, black gender and sexuality studies, women of color feminism, queer of color analysis, intersectionality, visual culture, and social movement and labor responses to policing and criminalization. Their in-progress book manuscript examines the emerging concept of "the Black Midwest" to argue that black struggles for freedom in the Midwest radically mobilize the region as a strategy to unsettle US liberal capitalist state power while uncovering pivotal social and political erasures on which national unity depends. Guided by visual cultural and historical archival materials, the study asserts that even as Blackness has been posited as peripheral to the Midwest, fugitive and queer Black Midwest resistance against slavery, sexual criminalization, anti-black and anti-queer life expectancy discourses, and police brutality demonstrate the centrality of black culture to the region. Freda's work in the university is informed by collaborations with community-based libraries, archives, and museums. Freda earned their Ph.D. and M.A. in Gender Studies from the University of California, Los Angeles, and their B.A. in American Studies with minors in Women's, Gender, and Sexuality Studies, Spanish, and African American Studies from Macalester College.
Freda's teaching focuses on the relationship between culture, labor, and sexuality; social justice and visual culture; black feminist thought and women of color feminist histories and methodologies; sexual politics and black radicalism; feminist and queer theory; queer regional and spatial politics, and feminist and queer of color material culture.
Selected Publications:
Fair, Freda L. 2021. "'I'm Hard to Catch': Ruth Ellis and Black Queer Longevity in Detroit." GLQ 27 (4): 603–627.
Fair, Freda L. and Mahaliah Little. 2019. "Erotic Illegibility and Desire in Representations of Black Sexuality" in Not Your Grandfather's Black Studies: Centering Pleasure and Sexuality in Black Studies. Forum. American Quarterly 71.1: 151-159.
Fair, Freda L. 2018. "Unruly Intimacies: The Body and the Midwest in the Works of Roxane Gay." Middle West Review 5.1: 117-124.
Fair, Freda L. 2018. "Subject/Object/Body: Recent Perspectives on Beauty and Aesthetics in Gender Studies." WSQ: Women's Studies Quarterly 46(1): 215-220.
Fair, Freda L. 2017. "Surveilling Social Difference: Black Women's "Alley Work" in Industrializing Minneapolis." Surveillance & Society 15(5): 655-675.
Education:
PhD, Gender Studies-University of California, Los Angeles, 2016.