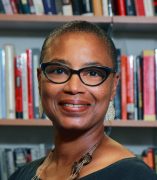 Lynette Jackson, PhD
Associate Professor
Gender and Women's Studies; Black Studies
Pronouns: she/her/hers
Contact
Address:
601 S Morgan St.
Office Phone:
Email:
About
Lynette Jackson is an associate professor of Gender and Women's Studies and Black Studies at UIC. She received her PhD in African History from Columbia University in 1997. Dr. Jackson is the author of Surfacing Up: Psychiatry and Social Order in Colonial Zimbabwe (Cornell 2005) and numerous other articles and book chapters on topics relating to women, the state and medical and public health discourses in colonial and postcolonial Africa, particularly having to do with the regulation of African women's sexuality. Dr. Jackson's current research explores the history of child refugee diasporas from Southern Sudan, particularly focusing on two streams of unaccompanied children: The Lost Boys and Girls and the Cuban 600. She has also begun conducting research for a critical biography of Winnie Mandela.
Dr. Jackson is engaged in social justice and human rights activism, with a particular focus on the human rights of women and girls and lesbian, gay, bisexual and transgendered peoples in Africa. She serves on the Chicago Committee of Human Rights Watch, the World Refugee Day planning committee and held previous board memberships on Heartland Alliance's Human Care Services and Vanavevhu: Children of the Soil, an organization that caters to orphans and vulnerable children from Zimbabwe. Dr. Jackson also provides expert witness testimony in gender-based political asylum cases, particularly cases involving Female Genital Mutiliation.
Recent radio interview on "African refugee children in diaspora: the Lost Boys and beyond" for WVON's African Diaspora Today program hosted by Carol Adams. April 25, 2010.
Education
PhD, History - Columbia University, 1997