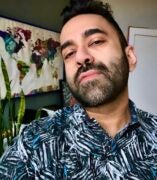 Ronak K. Kapadia, PhD
Associate Professor
Gender and Women's Studies
Pronouns: he/him/his
Contact
Address:
601 S Morgan St.
Office Phone:
Email:
About
Ronak K. Kapadia (he/him) is Associate Professor and Director of the Interdepartmental Graduate Concentration in the Gender and Women's Studies Program and affiliated faculty in Art History, Global Asian Studies, and Museum & Exhibition Studies at the University of Illinois Chicago. His interdisciplinary research engages critical ethnic studies, transnational queer and feminist studies, visual culture and performance studies, and critical studies of US empire and the national security state. Dr. Kapadia's first book, Insurgent Aesthetics: Security and the Queer Life of the Forever War (Duke University Press 2019) was awarded the 2020 Surveillance Studies Network Best Book Prize. Insurgent Aesthetics theorizes the queer world-making power of contemporary art responses to US militarism in the Greater Middle East. It examines the race-radical queer feminist visions, sensations, and freedom dreams of transnational South and Southwest Asian visual art and aesthetics in the context of contemporary US global state violence and its forever wars of security and terror in the Greater Middle East. Kapadia is co-editor of the special issue of Surveillance and Society on race and surveillance (2017) and his writing appears in numerous academic journals, edited volumes, and art catalogs. Finally, Kapadia is at work on a second book-length project, Breathing in the Brown Queer Commons, which examines queer and trans migrant futurisms in visual culture and performance art to develop a critical theory of healing justice and pleasure in the wilds of ecological chaos and US imperial decline.
Dr. Kapadia has been pursuing wider creative outlets for this scholarship to invite broader publics. This includes co-organizing a virtual seminar series (2020-2022) on the reciprocal politics of "bed space activism" across contemporary social movements for disability justice, migrant justice, and abolition feminisms funded by the Mellon Humanities Without Walls Program. Currently, Dr. Kapadia is a lead project director and co-curator of Surviving the Long Wars, a multi-sited public humanities collaboration with the emerging Veteran Art Movement that explores the intimacies between the two "forever wars" in US history—the 18th and 19th century US "Indian wars" and the 21st century "global war on terror." Funded by the National Endowment for the Humanities, Surviving the Long Wars explores the multiple, overlapping histories that shape our understanding of warfare, as well as alternative visions of peace, healing, and justice generated by diverse communities impacted by war. The project includes a virtual scholarly seminar series at the nexus of critical ethnic studies, native/Indigenous studies, and Middle Eastern Studies on the histories and futures of Native rebellion alongside contemporary US militarism and warfare. The project culminates in the second Veteran Art Triennial & Summit in Spring 2023, at the Chicago Cultural Center, Hyde Park Art Center, and Newberry Library.
Dr. Kapadia is currently on the Advisory Board of Verge: Studies in Global Asias. He has served as an elected board member of the American Studies Association and the Association for Asian American Studies, and he is a previous co-convener of the Newberry Library's Scholarly Seminar on Gender and Sexuality. Outside of academia, he served on the board of directors of FIERCE, working to build the leadership and power of queer and trans youth of color in NYC.
Selected Books and Publications
"The Downward Redistribution of Breath: Abolitionist Visions of Healing Justice from Chicago." Asian Diasporic Visual Cultures and the Americas 9, no. 2 (Summer 2023), forthcoming.
"Racialized Surveillance." The Bloomsbury Encyclopedia of Visual Culture, Vol. 3 Digitisations, Transformations, and Futures, eds. Barry Sandwell and Martin Hand, forthcoming.
"Outside, Looking In: Alternative Legacies and Futures for Surveillance Studies," co-authored with Toby Beauchamp. Surveillance & Society 20, no. 4 (2022): 406-412.
"The Galactic Potential of Queer Muslim Futurism: Listening for the Leninist Echo in Planet 65," Art Catalog Essay of Karachi-Based Artist Zulfikar Ali Bhutto's film series and multimedia project ABJD: Tomorrow We Inherit the Earth (San Francisco: Sming Sming Books, 2022): 100-104.
"On the Afterlives of Forever Wars: Insurgent Aesthetics as a Queer Practice of Freedom." In "Extraordinary Renditions: The Global Afterlives of 9/11," ed. Kalyan Nadiminti, special cluster of Post45 Contemporaries (2020).
"The Queer Sumptuousness of Chitra Ganesh." Art Review of Brooklyn-Based Artist Chitra Ganesh for The Archive No. 68, Leslie-Lohman Museum of Art Journal (2020): 53-54.
Insurgent Aesthetics: Security and the Queer Life of the Forever War (Duke University Press, 2019, Art History Publication Initiative Series: 366 pages, 93 illustrations, incl. 26 color plates in a 16 page insert).
"Kissing the Dead Body: Conjuring 'Warm Data' in Archives of US Global Military Detention." Verge: Studies in Global Asias 5, no. 1 (2019): 123-152. **Honorable Mention, American Studies Association (ASA) Comparative Ethnic Studies Paper Prize**
"Death by Double-Tap: (Undoing) Racial Logics in the Age of Drone Warfare." In With Stones In Our Hands: Reflections on Muslims, Racism, and Empire, eds. Sohail Daulatzai & Junaid Rana (Minneapolis: University of Minnesota Press, 2018): 201-218.
"A Queer of Color Killjoy." Review of A Taste for Brown Bodies: Gay Modernity and Cosmopolitan Desire, by Hiram Pérez. Feminist Formations 29, no. 2 (2017): 226-230.
Simone Browne, Ronak K. Kapadia, and Katherine McKittrick, eds. "Race, Communities, and Informers." Special issue of Surveillance & Society 15, no. 1 (2017).
"Up in the Air and On the Skin: Wafaa Bilal, Drone Warfare, and the Human Terrain." In Shifting Borders: America and the Middle East/North Africa, ed. Alex Lubin (Beirut, Lebanon: American University of Beirut Press, 2014): 147-163. Reprinted as: "Up in the Air and On the Skin: Drone Warfare and the Queer Calculus of Pain." In Critical Ethnic Studies: A Reader, ed. Nada Elia et al. (Durham: Duke University Press, 2016): 360-375.
"Sonic Contagions: Bird Flu, Bandung, and the Queer Cartographies of MIA." Journal of Popular Music Studies, 26, nos. 2-3 (2014): 226-250.
"Artist Collectives in Post-2001 New York: A Conversation with Visible Collective." In "September 11th Commemorative Issue," eds. Rajini Srikanth & Parag Khandar, spec issue of Asian American Literary Review 2, no. 1.5 (2011): 294-318.
Public Scholarship
Selected Awards, Fellowships, and Grants
UIC Scholar of the Year Award – Rising Scholar in Humanities, Arts, Design, and Architecture Division (2022-2023)
UIC Provost COVID-19 Relief Program Grant (2023-2024; award amount: $15,000, PI)
National Endowment for the Humanities Dialogues on the Experiences of War Grant (2022, $100,000, Shared-PI)
UIC Award for Creative Activity (ACA) Program (2022, $25,000, PI)
UIC Silver Circle Award for Teaching Excellence (2021-2022)
UIC Humanities Innovation Grant, Institute for the Humanities (2021, $10,000, Shared-PI)
UIC Teaching Recognition Program Award (2020-2021)
Mellon Humanities Without Walls Seed Grant on "Reciprocity & Redistribution" (2021, $5,000, Shared-PI)
Surveillance Studies Network Best Book Prize for Insurgent Aesthetics (2020)
New York University, Asian/Pacific/American (A/P/A) Institute, Visiting Scholar (2019-2020)
UIC LAS Dean's Award for Faculty Research in the Humanities (2017-2018, award amount: $2,000)
Mellon Art History Publishing Initiative Grant, Duke University Press, (2016, $8,000 for first book costs)
UIC Great Cities Institute (GCI) Faculty Scholarship (2015-2016)
UIC Institute for Research on Race and Public Policy (IRRPP) Faculty Fellowship (2015-2016)
University of California President's Postdoctoral Fellowship (2012-2013)
Consortium for Faculty Diversity (CFD) in Liberal Arts Colleges Dissertation Fellowship (2011-2012)
NYU College of Arts and Sciences Outstanding Teaching Award (2010)
Association for Asian American Studies (AAAS) Anita Affeldt Graduate Student Award (2009)
Stanford University Tom Ford Fellowship in Philanthropy (2005-2006)
Stanford University Robert M. Golden Medal for Excellence in the Humanities (2005)
GWS Courses Taught
GWS 101: Gender in Everyday Life
GWS 204: Gender & Popular Culture
GWS 362: Queer Theory
GWS 407: Advanced Seminar in Queer and Trans Studies
GWS 455: Feminism & Justice: Abolition & Decolonization
GWS 494: Prisons, Policing, & American Warfare
GWS 494: Climate Feminisms & Radical Worldmaking
GWS 501: Feminist/Queer/Trans Theory
GWS 502: Feminist/Queer/Trans Knowledge Production (Methods)
GWS 594: Feminism, Abolition, & War
Education
PhD, American Studies, Department of Social and Cultural Analysis, New York University (2012)
MA, American Studies, Department of Social and Cultural Analysis, New York University (2008)
BA, with honors and distinction, Comparative Studies in Race and Ethnicity, Stanford University (2005)