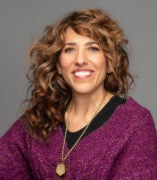 Nadine Naber, PhD
Director of Undergraduate Studies and Professor
Gender and Women's Studies; Global Asian Studies
Pronouns: she/her/hers
Contact
Address:
601 S Morgan St.
Office Phone:
Email:
Related Sites:
About
Nadine Naber received her PhD in Cultural Anthropology at the University of California, Davis. She is a Professor in the Gender and Women's Studies Program and the Global Asian Studies Program. She is an award-winning scholar and recent recipient of the 2022 Carl Bode-Norman Holmes Pearson Lifetime Achievement Prize from the American Studies Association; the 2002 YWCA's Y-Women's Leadership Award; and the 2021 Andrew W. Mellon Humanities without Walls Grand Research Challenge Award. Dr. Naber is author of Arab America: Gender, Cultural Politics, and Activism (NYU Press, 2012). She is co-editor of the books Race and Arab Americans (Syracuse University Press, 2008); Arab and Arab American Feminisms, winner of the Arab American Book Award 2012 (Syracuse University Press, 2010); The Color of Violence (South End Press, 2006), and Towards the Sun (Tadween Press/George Mason University, 2020). She is co-author of the policy report, "The Status of Racial Justice for Arab Americans" (IRRPP/UIC, 2022) and co-author of the policy report, "The Paradox of Social Development in the Arab Region" (United Nations, 2015).
Dr. Naber came to the University of Illinois from the University of Michigan, Ann Arbor where she co-founded Arab and Muslim American Studies (an Ethnic Studies unit within the Program in American Culture). At UIC, she is the faculty founder and former director of the Arab American Cultural Center and holds an affiliation with the Department of Anthropology. She is the co-principal investigator of the Middle East Cluster, an initiative within the Chancellor's Cluster Initiative to increase Faculty Diversity and the Interdisciplinary Culture at UIC. She served as Interim Director of the Institute for Research on Race and Public Policy and is currently a steering committee member of the Social Justice Initiative and co-organizer of the Race and Empire Working Group (Institute for the Humanities).
Dr. Naber's research interests lie at the intersections of transnational feminisms; women of color and queer of color theory; de-colonizing feminisms; empire studies; critical race studies; and Middle East Studies; and Arab American Studies. Drawing upon these fields, Dr. Naber's research theorizes the racialization of Arab and Muslim Americans within the contexts of empire and diaspora. In addition to providing frameworks for conceptualizing anti-Arab racism, her earlier research sought to answer the following question: How can Arab American Studies respond to Orientalism and tackle sexism, homophobia, and racism in ways that neither reinscribe Arab-bashing nor engage in Orientalism? Dr. Naber's current book in progress, Pedagogies of the Radical Mother, explores the possibilities of mother-led activism as a methodology for dismantling prisons, migrant injustices, colonization, and war. It is based upon Dr. Naber's "social-movement-led research methodology" which combines research and social movement goals and emerges out of partnerships with groups like Mothers of the Kidnapped, a collective of BIPOC mothers in Chicagoland striving to free children after Chicago police framed them or coerced them into making a false confession. This book is also based upon Dr. Naber's research in Cairo, Egypt on the radical potential of mothering during the Egyptian revolution of 2011.
Dr. Naber is an advisory board member of several book series, such as Decolonizing Feminisms: Anti-racist and Transnational Praxis with the University of Washington Press; Expanding Frontiers: Interdisciplinary Approaches to Studies of Women, Gender, and Sexuality with the University of Nebraska Press; Arab American Writing with Syracuse University Press. She has served as an international fellow with the Open Society Foundation and an expert author for the United Nations Economic and Social Commission for West Asia.
As a public, community-engaged scholar, she is co-founder of the non-profit organization, Mamas Activating Movements for Abolition and Solidarity (MAMAS). Dr. Naber has served on steering committees of social movements such as INCITE! Women and Gender non-Conforming People against Violence and Arab Movement of Women arising for Justice (AMWAJ). She is an advisor to the National Network of Arab American Communities; a board member of the Arab American Action Network; a TEDX speaker and a columnist for the Chicago Reporter. Her work has been featured on NPR, iHeart Radio, and in the Chicago Tribune.
Education
PhD, Cultural Anthropology - University of California, Davis