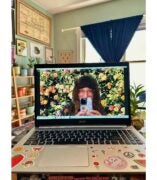 Krysten Stein
Teaching Assistant
Gender and Women's Studies
Doctoral Student, Communication and Media Studies
Pronouns: She/Her/Hers
About
Krysten Stein is a first-generation scholar, pursuing her Ph.D. in Communication and Media Studies with concentrations in Gender and Women's Studies and Black Studies at the University of Illinois at Chicago.
Grounded in critical+cultural studies, her research delves into the realm of cultural production, representation, media industries, and political economy. She studies the complex interplay between identity, power, and media, and is interested in how certain groups are systematically marginalized and excluded from popular culture, both in television and on digital media platforms.
She is currently working on her dissertation, which centers on mental health practitioners' experiences on TikTok, specifically exploring the influence of algorithmic power, the process of monetization, and identity performance in relation to gender, sexuality, race, and class. By immersing herself in these critical aspects, she seeks to uncover the meanings and implications of this popular form of entertainment in the context of a neoliberal era, characterized by soaring levels of stress, anxiety, and inadequate mental health care and resources.
She has published in journals such as Feminist Media Studies, Gender & Society, The International Journal of Communication, Queer Studies in Media & Popular Culture, The Popular Culture Studies Journal, and ACM CHI. Furthermore, she has presented her research at national and international conferences, showcasing her expertise and passion in the field.
In addition to her academic pursuits, she is also actively engaged in the field in various capacities. She serves as the Social Media Editor for Feminist Media Studies, is a UCLA Center for Critical Internet Inquiry Fellow, and is a research assistant in the MeDem Lab under the guidance of Dr. Tanja Aitamurto. She also is a Global Member of The TikTok Cultures Research Network, and held the position of Student and Early Career Representative for ICA's Popular Media and Culture division.
As an educator, Krysten embodies an innovative and critical pedagogical approach. She integrates theories and concepts into real-life contexts, fostering a deep excitement for learning and nurturing her students' critical thinking and problem-solving skills.